GENERAL INFOMATION FOR 2023 ENTRIES
Our one day rural show offers breeders a friendly and traditional livestock competition. On this page you will find contact details for all livestock competitions, as well as schedules and entry forms which you can download.
See the visitors page for directions to the showground, and please note the important access and parking details below.
Due to TB and bTB restrictions, no camelids will be allowed on the showground.
Pigs, sheep, goats and fur & feather
Please note the following.
Showground CPH holding No. 28/726/8002.
IMPORTANT PARKING INFORMATION AND TIMES
Livestock entrance is on Brandon Road, Watton.
After unloading, all vehicles must be moved to Exhibitors' Parking.
Vehicles may come and go from Exhibitors' Parking during the show.
Judging will only commence when all vehicles and trailers are off the main showground.
Vehicles will not be allowed back onto the showground before 5pm.
No animals may leave the showground before 5pm.
The Supreme Champion animal from each section (cattle, sheep, pigs, goats, horses, dogs, poultry, fur and feather) competes at the end of the show for the show's Champion of Champions Norman Sculfer Memorial Silver Salver and £250 kindly sponsored by Wayland Farms Ltd.
If you are planning on entering any livestock at the Wayland Show:
• Please download and read the Livestock Conditions of Entry which are found in the Livestock Schedule. You must adhere to these conditions and you will be bound by them, so please read them before entering the Show.
• Please also download and complete the Bio Security Register and return it with your entry form.
SHEEP
The Wayland Show is an ideal opportunity for livestock handlers to introduce their animals to the show circuit in a relaxed and friendly fashion at our one day Show. There are classes for all breeds of sheep.
SHEEP MAY BE SHOWN TRIMMED OR UNTRIMMED IN ALL CLASSES
We are delighted to announce that the Wayland Show is the first qualifier of the new season for the Rare Breeds Survival Trust (RBST) Young Shepherd of the Year. Wayland Show joins approximately 20 prestigious shows throughout the UK which gives our young shepherds an opportunity to compete for a place in the Young Shepherd of the Year Final taking place in the Autumn.
Contact information:
Secretaries: Gail Sprake / Tricia Newman
Telephone: 01986 782416 / 07885 777921
E-mail: sheep@waylandshow.com
2023 ENTRY FORMS & SCHEDULE
PIGS
The pig competition is your chance to get up close to a range of both traditional and new breeds of pig. Our small but friendly pig competition is open to all breeds. Classes are just divided into coloured pigs and white pigs, and not by breed. East Anglia has the largest number of pigs of any area in the UK, and provides employment for large numbers of people. The light soils and low rainfall of the Breckland area are ideal for keeping pigs outside. A popular class during the judging is the Young Handler's Class, which is an opportunity for young people to show their skills in handling and showing a pig in the judging ring. Judging starts at 10am, but if you miss that the pigs are there all day in their pens, and some will be paraded during the Livestock Grand Parade in the Main Arena around 4pm.
CONTACT INFORMATION
Secretaries: Paul Churchyard
Telephone: 07775141012
E-mail: paul.churchyard@hotmail.co.uk
ENTRY FORMS
Pig exhibitors please note that you must use the eAML2 pig movement system for this year's show.
This is provided below here:- eAML2 guide for show grounds
2023 ENTRY FORMS & SCHEDULE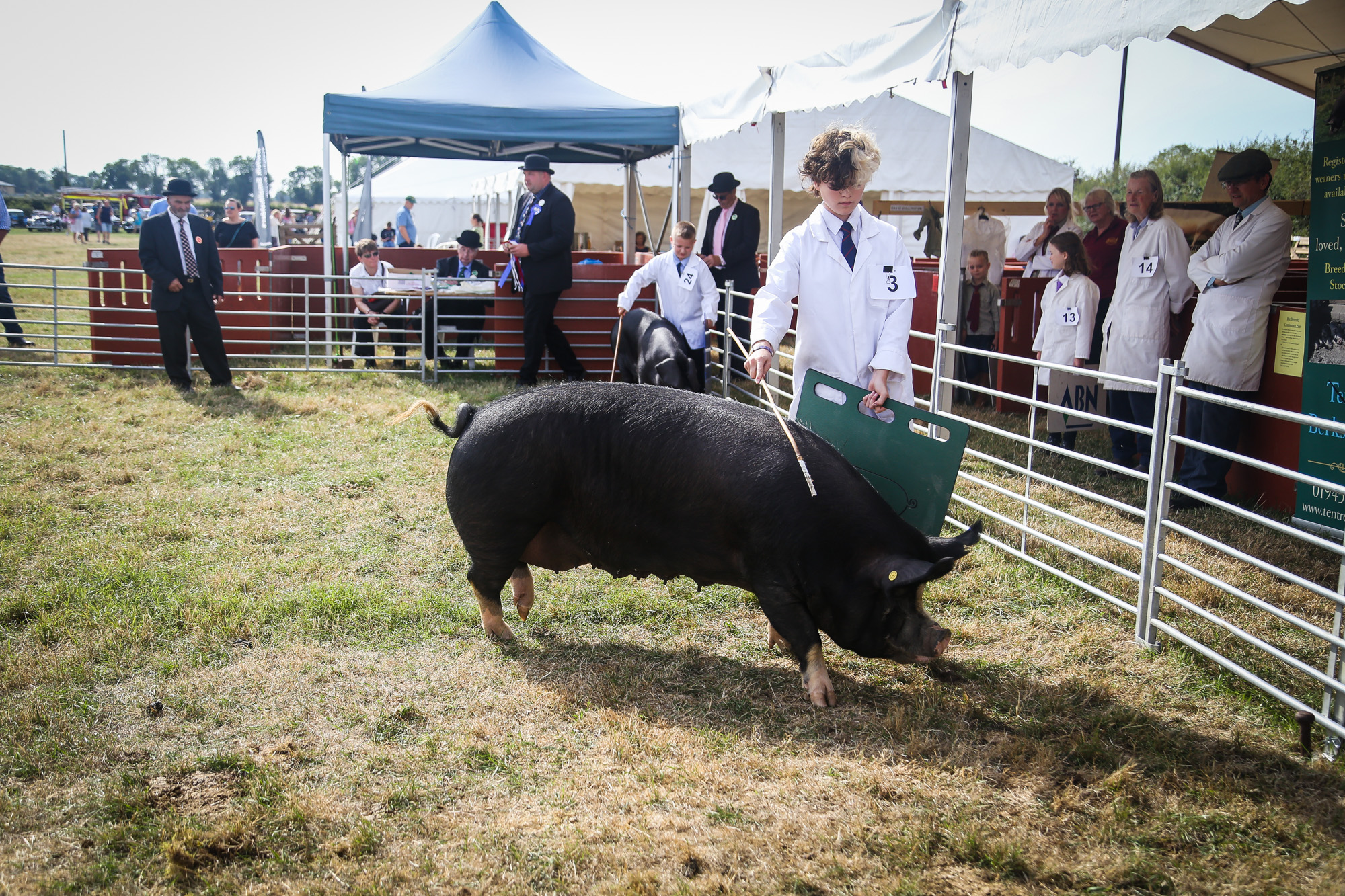 GOATS
CONTACT INFORMATION
Secretaries: Creena Hancock
Telephone: 07952 938950
E-mail: ndgceshow@gmail.com
2023 ENTRY FORMS & SCHEDULE